Bill Black is a North Carolinian who left the state when he entered the Army. While a youngster in North Carolina, he began performing magic at almost any place he could find an audience. He continued this through all the other things he has done over the years. Bill has performed as a magician and MC for shows throughout the country. He is a writer and creator of magic effects and has lectured coast to coast in "Semi-Monumental Magic." He was a portion of the "Magic of Success," a self-help and motivational program presented along the West Coast.
He has written and edited scripts, newsletters, educational programs and technical articles for limited circulation use. He has lectured on aspects of public presentations for performers and fundraisers.
His poetry began as a way to develop smoother speech patterns for public presentations and expanded to become another channel for idea expression. During a portion of his poetry writing, he, like many other Vietnam veterans, found that it helped define some of the feelings bottled up by and after the war. Some of these poems have been shared with other veterans and their families. Bill began writing a more Western style of poetry when he realized in the mid 1990's that it seemed a more natural "voice" for his type of writing.
Bill recorded "Classic Western Poetry" and "The Changing West" on Compact Disc. The Academy of Western Artists, in their Eighth Annual Will Rogers Awards for Outstanding Achievement of Contemporary Cowboy Skills chose "Classic Western Poetry" as one of the selections in the Top Ten voting for the Poetry Album / CD category for 2002.
His poetry may also be found on Omar West's Cowboy Poetry site ( www.cowboypoetry.com ) under "Other Folks' Poems" and at Grunt.net – Home of U.S. Military History, ( www.grunts.net ) in the poetry section. Bill's own website is www.billblackaz.com.
Click here for an offline version of this text (MS Word doc)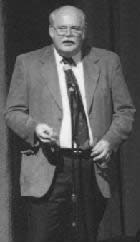 Bill Black acting as Master of Ceremonies for the 2001 Stars of Magic Show at the Temple of Music and Art in Tucson, Arizona.
He has performed the same task for numerous other magic and variety shows in the Southwest.
His humor and easy style aided the show producers in smoothly setting up their successive acts.